MCHENRY CLAIMS SCHAUMBURG TOURNAMENT TITLE
By Rob Smith
HOFFMAN ESTATES, IL – Coming into the Schaumburg Tournament, no one on the McHenry co-ed water polo team had experienced winning a Saturday, multi-team event.
With two minutes left in the championship game against Lincoln-Way West and down, 9-7, the plaque-less weekends looked like they might continue. After Michael Matusek scored to bring McHenry within one, Riley Hedberg had goals at :47 and :18 seconds left to give McHenry the championship.
Hedberg, a sophomore, said with time expiring quickly, he was just looking for a lane to shoot. "I was only focused on putting the ball in the back of the net," Hedberg said.
First-year coach Brandon Das said he was trying to get his team to relax, which was as much a directive at himself, as he paced and yelled on the sidelines with assistant coach Bill Dabrowski.
"You definitely get a little nervous with only two minutes left," Das said. "Just keep calm. Let them have fun. The kids did what they're supposed to do."
McHenry opened the game with two goals from Jonah Smith and one from Matusek to go up, 3-1, after one quarter. After a first period goal, LWW's Cody Torres added two in the second along with goals from Tyler Hubbs and Josh Carlson, to even the score, 5-5, at halftime. In the second, McHenry had goals from Matusek and Tyler Hemphill.
For the game, Matusek had four goals and Hedberg three. Torres scored four times for LWW and Hubbs had two. McHenry goalie Adam Starus made 12 saves in the game.
With just a handful of players with varsity experience after losing four starters on Thursday, LWW coach Steve Anderson said he didn't know what to expect heading into tournament, which was played at Hoffman Estates due to construction on the Schaumburg pool.
"The rest of the team has never been in a varsity game," Anderson said.
While the win was within his team's grasp, Anderson saw more positives coming out of the weekend than negatives. "I'm happy," Anderson said. "We rose, we kept playing. We got beat at the end by not settling. It's little things."
Torres said the game was a good challenge and experience for his team. "It was definitely one of the higher level teams we played," Torres said. Torres, who played last year at Lincoln-Way Central, said he likes the camaraderie on the team this season. "This year it's a good group of kids," Torres said. "We play well together as a team."
In the other place games, Young defeated Schaumburg, 11-6, for third, St. Rita beat Wheeling, 11-0, for fifth, and Lafayette (MO) won the seventh place match against Hoffman Estates, 13-1.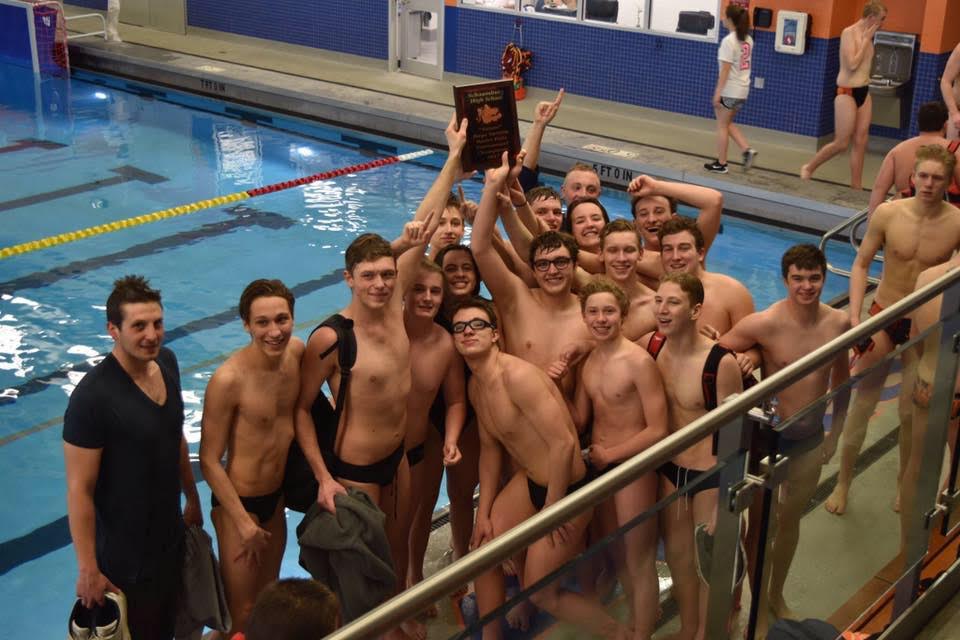 The McHenry squad hoists the Schaumburg Tournament trophy after finishing 4-0 at the event.