Feature Article
April 10, 2014
The Struggle (Life as a Water Polo Player)
By Aaron Brown
Two nights ago, I was offered free tickets to the Blackhawks' final home game of the regular season (Wednesday night). I got excited for a moment before realizing there would be no way for me to attend. Why? Because of water polo.
It immediately got me wondering what type of sacrifices and struggles the high school water polo players in Illinois are making or going through during the course of the year. Are they giving up a spring vacation to stick around for practices and games? Are they waking up early for morning practice when the rest of their school population is sleeping in on a holiday? What other things are players doing?
I took to Twitter/e-mail for responses and listed 21 of them: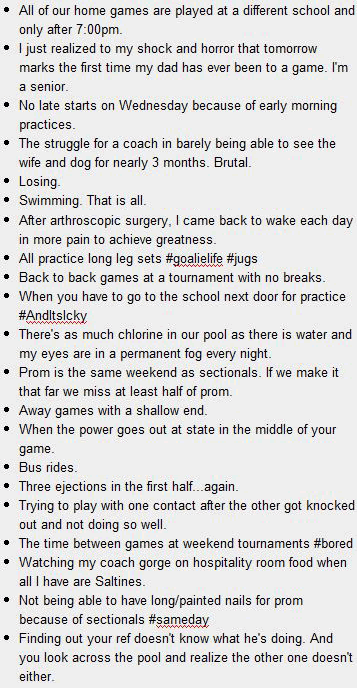 What other struggles can you think of as a water polo player in Illinois? Send additional responses to @illpolo on Twitter or via e-mail to: illpolostaff@gmail.com.
Disclaimer: Some responses have been slightly modified for grammatical reasons.