Entry #2
The Insane Goodness of Mike's Harder Mango Punch
Posted August 11, 2011, 4:20pm by Aaron Brown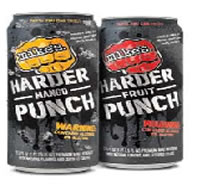 Two years ago, Mike's Hard Lemonade unleashed their 'Mike's Harder' brand on the general public. The popular but acidy drink in a 12oz. bottle was replaced by 24oz. can with double the alcohol content. While both changes were definitely good for drinking outside at a tailgate (or in my case, church parking lot before my wedding), I found that the alcohol/vodka taste towards the bottom of the can was way too strong and two years later the products have disappeared from store shelves.
Thus, I was caught by surprise when I saw a black can labeled 'Mike's Harder Mango Punch' at the local grocery store. Not only is the black can ominous, but the large fist on the middle of the can upped the intimidation factor of the drink. Well, maybe that was the 8% alcohol content label proudly plastered on the outside of the can like a badge of honor.
Skeptical, I took a few cans home with me to see if this was any different from the previous versions. And OH MY GOD was it different. The flavor is like drinking something like Arizona Flavored Iced Tea or Vitamin Water. That might be dangerous to some, but if you like the idea of drinking the equivalent of four beers/drinks out of one can for a $2.99 price, then this is the drink for you. Not only does the can lack any hint of alcohol taste, but the drink does not hit the stomach with acidity like a normal Mike's Hard Lemonade product. I can normally only stomach 2-3 bottles before my stomach tells me to switch to something else, but these cans go down with ease and are highly recommended for a hot summer day or to get your night started off right.
Mike's Harder Mango Punch Grade: A-
Edit: It's not lost on me that there is another product shown in the picture called Mike's Harder Fruit Punch. Review coming as soon as I can get my hands on one of those cans.
---
To comment on this story through Facebook, click here.

Latest Posts