Entry #12
Big Ten Men's Basketball Preview
Posted November 13, 2011, 9:20am by Doug Ropp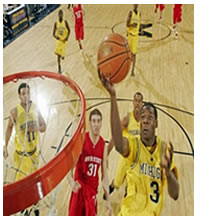 Hereís a look into the Big Ten season this year. I am not into making predictions but I will give you a break down of what to look for this year. Donít go by the order as a predicted order of finish.
1. 1. Ohio State
I do figure Ohio State to be the beast of the conference. I think Thad Matta is an excellent coach and I like the job he has done there. Last year was disappointing as they fell to Kentucky in the Sweet 16. They do have big shoes to fill with the loss of David Lighty and sharp shooter Jon Diebler.
For the Buckeyes, it all starts with big man Jared Sullinger. He had a very solid freshman year and should continue to even better [ Read More... ]
---
Entry #11
30 Years of Celebration: Cubs and White Sox
Posted November 13, 2011, 9:20am by Doug Ropp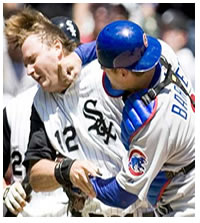 As part of my 30 years of sports celebration, I have come up with my memorable moments and all-time teams for the Cubs and White Sox spanning from 1980-2010:
CHICAGO CUBS
All-Time Team
LF Andre Dawson
2. CF Bob Dernier
3. RF Sammy Sosa
4. 1B Mark Grace
5. 2B Ryne Sandberg
6. SS Shawon Dunston
7. 3B Aramis Ramirez
C Jody Davis
SP Rick Sutcliffe, Greg Maddux, Carlos Zambrano, Kerry Wood, Rick Reuschel
RP Bruce Sutter, Lee Smith [ Read More... ]
---
Entry #10
Rivera Brings Excitement To The Carolina Panthers
Posted August 29, 2011, 3:50pm by Doug Ropp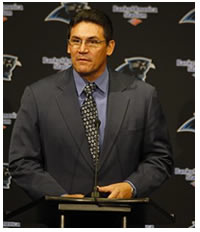 On a summer day in 1995 or 1996 in the pre-WNBA days, I headed off to DePaul University for a womenís basketball game involving what I believe was the Chicago Twisters (after searching on google.com).
I was up in the stands that day and I ran into former Bears linebacker Ron Rivera. I do not know much about his playing days except that he was on the Bears Super Bowl Championship team. I addressed him immediately and he was very nice. I enjoyed listening to him on the Score in those days. His wife Stephanie was a coach on one of the teams. Yahoo says she was the Coach of the Twisters. Little did I know Rivera and I would wind up in Charlotte; 10 years later for me and 15 for him.
Rivera brings a new infusion of energy to the Panthers. After working for the Bears, Chargers and Eagles, Rivera figures to bring an attacking defense. The early reports from Steve Reed of the CarolinaGrowl.com say [ Read More... ]
---
Entry #9
Cubs Search For A New General Manager
Posted August 24, 2011, 9:50pm by Jamal Collier
The greatest Cubs general manager of my generation, Jim Hendry, was fired last week. Iíve never been one to call for Hendryís head, actually Iíve sang his praises; he pulled off a steal in 2003 trading for Aramis Ramirez and Kenny Lofton and the Cubs won three division titles during his tenure.

It was not his fault that the team in 2003 was five outs from the World Series and blew it, or his fault that the team with the best record in 2008 did not even win a playoff game. However, I am happy that Hendry was fired because it was time for him to go and time for a change. He did everything he could to try and win this team a World Series when the window was open, but unfortunately it did not happen. It completed one of the craziest weeks in Cubs history, starting with Carlos Zambrano being placed on the disqualified list. So, a change is good for the organization and offers hope to the fan base, and this fan, that is looking for some reason to hope.

The Hendry firing assured me one thing: the Cubs and owner Tom Ricketts appear to have a plan. [ Read More... ]
---
Entry #8
This Summer's NFL Lockout Was Actually A Good Thing
Posted August 18, 2011, 1:10pm by Jamal Collier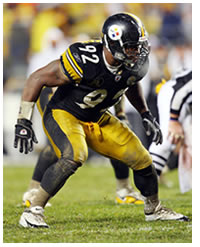 Usually getting excited to see your favorite team play isnít weird. But I find myself asking why am I excited to see my favorite team, the defending AFC Champion Pittsburgh Steelers, play the Philadelphia Eagles on Thursday night football. Itís the preseason.

I hate preseason football, and normally want the starters to get in and get out avoiding any possible injuries. The last thing I want is for one of the starters to get hurt in this meaningless game. And even after our starting cornerback Ike Taylor broke his hand last week, I was excited to read that the Steelers starters could play up to two quarters.

Maybe itís because Iíve been waiting for something to save me from my pitiful baseball team (the Chicago Cubs).

Maybe itís because I want to get rid of the bad taste that Aaron Rodgers gave me after the Super Bowl. [ Read More... ]
---
Entry #7
Should The White Sox Be Taken Seriously?
Posted August 17, 2011, 12:20am by Aaron Brown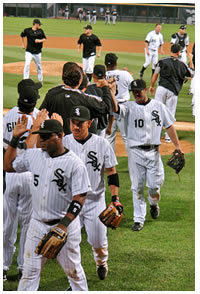 As I sat watching the Chicago White Sox in a fourteen inning game against the Cleveland Indians on August 16/17, I tried to determine whether or not they were really a team that could win their division in 2011. They entered the night just 3.5 games behind the division-leading Tigers with 45 games left to play, but had only reached the .500 mark for the first time this season the night before.

I tried to let this game serve as an example as to whether or not they could actually overtake the Tigers, and truth be told, I did not like what I saw. In a game where the White Sox led for nearly the entire game, relievers Chris Sale and Sergio Santos each gave up a run in the eighth and ninth innings, respectively, giving the Indians a chance to win the game in extra innings. The same Indians team that sits 1.5 games ahead of the Sox for second place in the Central division.
They had a chance to win in the ninth after Tyler Flowers hit a two-out triple, but Gordon Beckham couldn't knock him in. In the tenth, the Sox had two runners on base with one out, but their best hitter, Paul Konerko, hit into a double play. In the eleventh, Alex Rios led off with a triple, but [ Read More... ]
---
Entry #6
Time To Show Big Z The Door
Posted August 15, 2011, 8:00am by Jamal Collier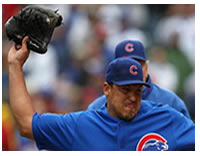 At about 6:35pm on Friday evening, I tuned in to watch my beloved Chicago Cubs take on the Atlanta Braves. I then proceeded to watch our ďaceĒ Carlos Zambrano (and I use the term loosely) give up five home runs and then throw two straight pitches at Chipper Jones. This left me scratching my head, but it wasnít even the most baffling part of the night.

After the game, I heard that Zambrano marched into the locker room, cleaned out his locker and told the team he was retiring.
WaitÖwhat? [ Read More... ]
---
Entry #5
Why Chicago Has The Best Sports Fans In The World
Posted August 15, 2011, 7:00am by Jamal Collier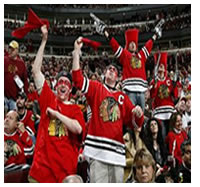 Chicago is often coined as the ďSecond CityĒ or the second most prestigious city in the United States because of its' entertainment, culture and finance. I donít know much about that stuff, but what I do know is that Chicago should be the first city when it comes to sports.

Not many cities have five major sports teams. Chicago has the Bears, Blackhawks, Bulls, Cubs and White Sox. The Sporting News named Chicago the Best Sports City in the United States in 1993, 2006 and most recently 2010. I have lived in Illinois my entire life and I love it here and plan to continue to do so for the rest of my life. You can call me biased, but Iíll always believe there is no better place in the world to be a fan than Chicago. [ Read More... ]
---
Entry #4
The Real Reason Why I Hate Chicago Sports Teams
Posted August 12, 2011, 3:15pm by Chris Fetterman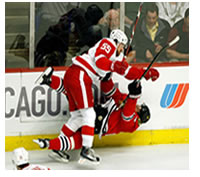 The real reason I hate Chicago sports teamsí is because they are just so damn good. I mean, wait, no. People ask me almost daily why I dislike the Bulls, the Cubs, the Sox, the Bears, the Hawks, and the University of Illinois -- and the truth is itís because of how I was raised.
I grew up in Lansing, MI so naturally my love for Sparty doesnít need to be explained, but Iíll give you a little background. Along with the pledge of allegiance, we sang the Michigan State University fight song every morning when I was in kindergarten. My father was a teacher at MSU and my entire family, save for one cousin (who for the sake of his safety will remain nameless), all grew up going to games and loving the green and white. [ Read More... ]
---
Entry #3
Relegation Would Make American Sports More Interesting
Posted August 11, 2011, 7:55pm by Aaron Brown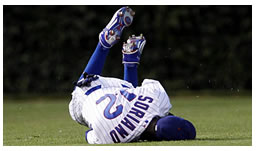 As a fan of the English Premier League and other European football leagues , I often find that a major part of the excitement in a season is seeing which teams will get relegated and have to drop down to a lesser league the following year. Assuming it's not my team (Aston Villa FC), the race at the bottom of the standings is just as important as the race at the top of the league all the way to the end of the season. The teams that finish in the bottom three of the league standings are forced to drop down a level, while the top three teams from the league below get to advance and play with the big boys in the following season. [ Read More... ]
---
Entry #2
Jim Leyland Is The Problem In Detroit, Not The Solution
Posted August 11, 2011, 7:40pm by Chris Fetterman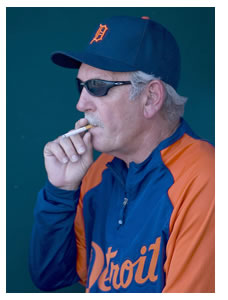 The NFL is about to kick off, the sun is still shining, the birds are still chirping, and the Tigers are actually playing with a small amount of emotion tonight...I honestly don't know what to think. But, I'm going to pull a Dennis Miller and go off on a rant for a moment.

I am a high school swim coach (and water polo) so I don't pretend to know what it takes to a) coach another sport and
b) make the necessary decisions it takes to be successful in another sport. But is there anyone worse than Jim Leyland at decision making? Now, I am supporter of his (as a man), but his countless poor choices have put the Tigers in too many bad situations, and it seems the players don't want to get themselves out of them. I don't really want to blame "old smokey" but at the end of the day, its the coach that gets put in the firing line. [ Read More... ]
---
Entry #1
Aston Villa's Season Hinges On Positive Start
Posted August 11, 2011, 3:40am by Aaron Brown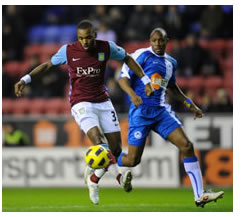 The last twelve months or so have truly been chaotic for Aston Villa supporters. After playing for three different managers and flirting with relegation last season, Villa finished a respectful ninth in the English Premier League. A stable offseason would have helped, but the club lost two of their top players (Ashley Young to Manchester United and Stewart Downing to Liverpool) while they made the controversial appointment of manager Alex McLeish from their hated crosstown rivals, Birmingham FC. There are some positives, however, as the club signed goalkeeper Shay Given from Manchester City and Charles N'zogbia from Wigan and have a plethora of younger talent ready to step up to the first team in the 2011-2012 season. Yet one of the biggest positives to the upcoming season is how a favorable schedule could get the team on the right track. [ Read More... ]