Entry #5
The Secret To Winning Money In Vegas
Posted August 13, 2011, 12:00pm by Aaron Brown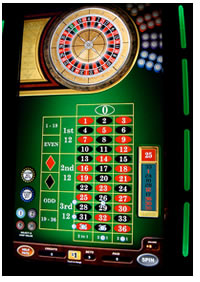 I've been to Las Vegas ten times in the past three years. Every time I return, I get asked the same question, "Did you win any money?" And every time, the person who asks the question has a look on their face as if they are expecting me to say no, as if I would continue to go to the same place to gamble and lose my hard-earned cash.
In all honesty, I have won money in Vegas nine times out of ten. That's not a cliche or some sort of easy answer. The simple answer is that I have found a strategy that helps gamblers win money 90% of the time, and I'm guaranteeing you will do the same IF you follow my simple plan.
Before you read further, understand that I am not trying to sell you some gambling program or anything that costs $2.99 per minute or something like that. It's actually pretty simple, fun, gives you the sense of risk, and should help you walk in and out of Vegas with confidence. Here goes:

1) Before going to Vegas, call up the Passenger 57 clip that ends with Wesley Snipes asking the villain "ever play roulette?" and finishing with the tip "always bet on black!"
2) Bring about $300 in cash to use for gambling purposes (even though this plan will allow you to use cash for things like tips and dinners before you leave)
3) Locate the video roulette machine as pictured above. There are usually between 4-8 of these machines at each of the decent to excellent casinos.
4) Find a machine that shows a few more reds than blacks on the previous results list on the right
5) Change the dollar amount on the bottom of the machine to $1. There's no need to play with any more than that, even though the machine will offer you the option of playing $2 or $5 per hand
6) Place $20 into the machine
7) Place $1 on black
8) Spin the wheel by pressing "Spin"
9) If black comes up, you win $1. If it falls on red or green, bet $2 on black. The key to winning here is to keep doubling your bet. If you lose $1, you bet $2, and if you win that second bet you get your lost $1 back, the $2 you bet on the second turn, AND your $1 winnings.
10) If you lose two in a row, bet $4 on black. You end up losing twice and then winning on the third spin, resulting in a total of $1 of earnings.
11) If you happen to lose a third time, you bet $8 on black and hold your breath. If you win, you end up with $1 of profit and you start over.
12) Start over again by betting $1 on black and repeat the process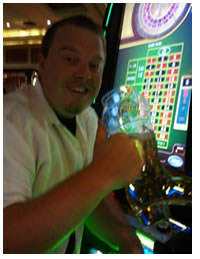 Now, I have used this multiple times (about 20-24 times) by walking up to the machine, winning $1 and walking away. In fact, there have been times where I was dining in a casino restaurant, went to the roulette machine during dinner, and won enough money to leave for tip. I've done this while drinking where I started being more risky and betting more on the second or third hand after losing and walked away a winner. And I've raised the stakes to $20 per hand while keeping the strategy the same: doubling the bet if you lose. What I have found is that the video roulette machines are programmed in a certain way, where they won't have more then 3-4 black or red results in a row, otherwise the machines seem rigged. So why not play to those percentages.
There's me on the left downing a 32oz. beer in front of the roulette machine. I'm not smiling because of the free beer, but because I've won over $40 on a night where I shouldn't have been able to figure out my left foot from my right. Why? Because I walked away from this machine with cash AND about 4-5 free drinks. It's definitely a win-win situation. And I won because I stuck to my strategy of doubling up on my bets. Just remember to "always bet on black".
---
To comment on this story through Facebook, click here.

Latest Posts