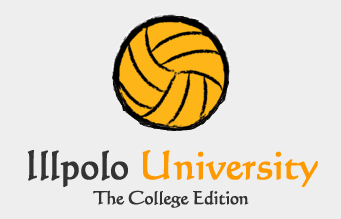 April 12, 2016
The College Edition, Volume #43
By Aaron Brown
Abbey Kerth was named Player of the Week by the MPSF mainly for her performance in the Sun Devils' overtime win over California on Senior Day. [The Sun Devils]
Kerth scored two key goals in the previously mentioned 7-6 overtime win over Cal. [The Sun Devils]
Kerth is featured in the 'Downton Abbey' portion of the latest Arizona State water polo article. [The Sun Devils]
Allie Boothe, Amanda Boothe, Erin McCook, Laura Larsen and Elyssa Hawkins helped Carthage beat Grove City on April 1. [Carthage Athletics]
Boothe, Boothe, McCook, Carly Strass and Malea Fischer made major contributions for the Lady Reds as they split a pair of games with Conn College and Grove City. [Carthage Athletics]
Becky Insalaco and Katie Appell each scored two times to help Mercyhurst beat Gannon on April 9. [Hurst Athletics]
Carly Romano recorded her first goal of the season as the Lakers beat Penn State Behrend 15-2. [Hurst Athletics]
Carmen Rosas scored two goals and Lucia Adami added one score in Brown's 17-10 win over Conn College. [Brown Bears]
Rosas also scored four times in a pair of games against Bucknell and George Washington. [Brown Bears]
Caroline Wojtas recorded two goals and Sarah Dolitsky put in one score in the Keydets' 17-11 victory over Siena on April 2. [VMI Keydets]
Clare Bryar scored four goals, Sam Voelker netted three scores and Sarah Abbott made eight saves as the Saints split a pair of games with Iona and SFC. [Siena Saints]
Becca Dabrowski, Cassidy O'Connell and Rachel Unger helped the Scots finish 2-1 on the final day of the Penn St Behrend Tournament. [Monmouth Scots]
Dabrowski, O'Connell and Natalie Curtis earned weekly honors from the CWPA for their respective performances at the Penn State Behrend Round Robin. [Monmouth Scots]
Colleen Barron scored five times and Marta Considine put in three scores as Bucknell split a pair of games with Brown and Hartwick on April 9. [Bucknell Bison]
Barron and Considine both totaled two goals and two assists as the Bison beat George Washington. [Bucknell Bison]
Dana Andrea, Jordin Hale and Hannah Schultz were each awarded for their stellar play by the MAAC with Schultz recognized for her offense, Andrea recognized for her defense and Hale earning rookie honors. [IC Gaels]
Dani Jackovich scored one goal in a win over CSUB [Go Stanford], added another score in a win over San Diego State [Go Stanford] and scored three times in a 13-5 win over California [Go Stanford].
Fran Williamson scored two goals to help Gannon beat Penn State Behrend on April 7. [Gannon Sports]
Williamson earned a hat trick in a 13-12 victory over Wash & Jefferson on April 10. [Gannon Sports]
Hannah Schultz scored seven times and Rebecca Mathews scored five times as Iona split a pair of games with Siena and Wagner. [IC Gaels]
Mathews, Schultz, Alyssa Gayapa, Dana Andrea, Devika Joshi and Jordin Hale all helped the Gaels earn wins over Villanova and VMI in Brooklyn. [IC Gaels]
Julia Campbell made five saves in the Wolverines' 11-8 win over Indiana on April 2. [MGo Blue]
Campbell earned two wins after stopping 14 shots for the Wolverines while Emily Sejna played valuable minutes in victories over Harvard and Princeton. [MGo Blue]
Julie Conrath made 17 saves in a pair of games against Marist and Wagner. Conrath and Robyn Bastian were both honored on Senior Night for the Wildcats. [Villanova]
Karrie Kozokar dished out her eighteenth assist in a loss to Michigan [IU Hoosiers], scored three times in a win over Harvard [IU Hoosiers] and scored the game-clinching goal in the Hoosiers' 10-9 victory over Princeton. [IU Hoosiers]
Kristen Kleist recorded two goals in SFC's 12-11 overtime win over VMI. [SFC Athletics]
Kristi Howe scored three goals and recorded her first career hat trick as Gannon defeated Grove City 17-9. [Gannon Sports]
Liz Klock scored two goals and Madison Nervig tallied one scores as the Presidents beat Grove City. [Go Presidents]
Klock scored twice and Nervig totaled one score as W & J topped Penn State Behrend 10-8. [Go Presidents]
Klock scored five times and Nervig totaled three goals as the Presidents split a pair of games with Gannon and Penn St Behrend. [Go Presidents]
---
Previous Volumes (2014-2016)
---
Illpolo University depends on links and updates that are sent in by various sources. Send all possible updates to illpolostaff@gmail.com and we will verify the information before posting.