..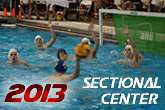 ..
STATE SEMIFINALS 2013
Only four teams remain in the state water polo playoffs in 2013. The quarterfinal round winners meet for a total of two contests to determine which teams will continue playing on Saturday in the state title game. Here is your guide to all of the action on Saturday, May 18:


SEMIFINAL #1
11:30am Fenwick vs Naperville North
Matt Farmer's return to the lineup has helped the Friars get in position to win the state title if they can get past Naperville North in Saturday's semifinal round. That's no easy task, as the Huskies fought their way back to fend off New Trier 10-9 on Friday in the quarterfinal round. Fenwick head coach Kyle Perry has plenty of other options at his disposal with Andrew Bertschy, Danny Farmer, Omar Calderon, Matt Bresnahan, Ryan Masi, Tony Perez, Trevor McLean and more all hoping to make an impact in the teams' next two games. Eric Curia is the focal point of the offense for the Huskies, but he is strongly supported by Adam Nyland, Drake McClure, Garrett Nash, Gianmarco Duin, Luke Landiak, and Nolan Roberts.

QUARTERFINAL #2
12:45pm Stevenson vs St Ignatius
Stevenson and St Ignatius both survived tough encounters on Friday night after trailing early on to move to the state semifinal round. Who will make a surprise appearance in the state title game with a win on Saturday afternoon? The Patriots are playing at home while the Wolfpack looked convincing down the stretch in their win over Brother Rice. The Patriots have a plethora of weapons that starts with Remy Dalloul and Mitchell Sokolsky and continues with Alex Divanyan, Alex Kapecki, Josh Weisberg, Taylor Baretz, and Varun Mummadi. The Wolfpack blend youth and experience to get things done, as the likes of Billy Barth, Jesus Juarez, John Reyes, Shane Hughes, Tom Dowling, and Themio Christy all play key roles for head coach Luis Martinez' squad.