THE ILLPOLO REPORT
Week 1
The following is a summary of what took place during the first week of the season. This is not a complete list and we can only include a few people in this summary, but the purpose is to recognize a few of the best performances from each week.
Players To Watch
BOYS
Shane Hughes (St Ignatius)
Zach Zdanavicius (Bremen)
GIRLS
Katie Horn (Naperville North)
Mandy Borre (Fremd)
For a complete description, see Players to Watch: Volume I
Biggest Impact Plays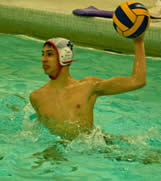 BOYS
Matt Lopez (St Rita)
Lopez is pictured above scoring the game-winning goal in sudden-death overtime as St Rita defeated DeLaSalle 7-6.
Simon Shatinsky (Neuqua Valley)
Shatinsky's backhand goal in the final minute helped the Wildcats edge Waubonsie Valley 9-8 on Saturday.
Zach Zdanavicius (Bremen)
The Bremen sophomore scored with four seconds left to give the Silver Snakes a 13-12 victory over LWC.
GIRLS
Nya Wilkins (Whitney Young)
Wilkins blocked a shot and scored from her own end at the end of overtime to give the Dolphins a 6-5 win over Wheeling on Saturday at the Stevenson Tournament.
Top Goalie Performances
BOYS
Robbie O'Brien (Stevenson)
O'Brien blocked a Fremd breakaway chance at the end of regulation in Stevenson's eventual overtime win over the Vikings on Saturday. He totaled 39 saves in three wins as the Patriots won their own event.
GIRLS
Jessica Fox (Naperville Central)
Fox recorded two shutouts in her first week as the starting goaltender for the Redhawks, who started the season with a perfect 5-0 record.
Kelly Pender (Lincoln-Way North)
The Phoenix goaltender allowed six goals in three games and made 29 saves as Lincoln-Way North won the Hinsdale Central Tournament on Saturday afternoon.
Biggest Surprises
BOYS
Palatine
The Pirates' rebuilding process is complete as they looked impressive over the weekend in finishing tied for second place with last year's state tournament runner-up, Loyola.
GIRLS
Barrington
The Fillies edged Stevenson by one goal in the first game of the Patriots' own tournament on Saturday morning en route to winning the event with a 3-0 record.
News and Notes
Timid Opening Week
Just over half of the 170 water polo teams have gotten their first game under their respective belts; look for a handful of teams to make their 2013 season debut during Week 2.
Snow Day
Excess snow forced the cancellation of most area schools and left all but one of the 20 games on Tuesday's schedule either postponed or cancelled. It also forced most teams to miss a day of practice.
Super Ballers
BOYS
Jordan Palmer (New Trier)
Nathan Pimentel (Oak Park)
GIRLS
Clare Bryar (Mother McAuley)
Katie Appell (Oak Park)
For a complete description, see Week 1 Super Ballers Information