.
TOURNAMENT RECAP (Thursday, April 12-Saturday, April 14)

FENWICK TOURNAMENT
Naperville Central Proves Point At Fenwick Tournament
The Redhawks solidified their top-ranking by knocking off Lyons 14-11 in the grand finale of the Fenwick Tournament on Saturday evening. Central won the event with a 4-0 record, earning wins over Mundelein, New Trier, and Stevenson in addition to their triumph over the Lions. LT, which surprised Fenwick 13-10 on Friday, place second with a 3-1 mark.
Mother McAuley beat Stevenson 9-5 to claim third place ahead of the Patriots, the hosts shutout H-F 9-0 to end the weekend on a high note in the fifth-place game, and St Ignatius held off New Trier 11-7 to put the finishing touches on a 2-1-1 weekend and seventh-place run.
Thursday's Game Recaps
St Ignatius 6 Mother McAuley 6
Clare Bryar scored on a lob shot from four-meters to give Mother McAuley a 6-5 lead in the final period, but Tammy Stelnicki tied the game with under four minutes remaining and the Catholic League rivals ended up finishing in a 6-6 tie to start the Fenwick Tournament. Bryar and Vicky Arciniega each scored 2 times for the Mighty Macs, while Stelnicki led the Wolfpack with 3 goals.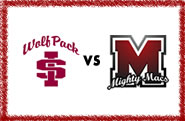 Click the logo for complete coverage
Lyons 19 Loyola 6
Lizzy Kosin recorded 7 goals and Carrie Nacht added 6 scores as LT cruised to a 19-6 win over Loyola. Blair Hopwood and Kirby Kaptur (4 steals, 3 blocks) each tallied 2 scores in the Lions' victory. Marta Considine scored 3 goals and Meredith O'Brien blocked 12 shots in the loss for the Ramblers.
Stevenson 5 Neuqua Valley 0
Lisa Michalowski totaled 13 saves and 4 steals to help Stevenson earn a 5-0 shutout over Neuqua Valley. Brittany Gartenberg and Cami Haas each tallied 2 scores in the Patriots' win.
Naperville Central 19 Mundelein 6
Abbey Kerth scored 6 goals and Julia Campbell made 10 saves as Naperville Central topped Mundelein 19-6. Karrie Kozokar led the Mustangs with 4 scores in the loss.
St Ignatius 15 Evanston 4
Tammy Stelnicki poured in 5 goals and both Karen Juarez and Stephanie Fernandez added 4 scores as the Wolfpack downed Evanston 15-4. Rebecca Insalaco also scored 2 times in the Ignatius win. Aliya Abdelhak and Yasi Nassiri both posted 2 scores in the loss for the Wildkits.
Fenwick 12 Loyola 6
Colleen Barron scored 4 goals to lead the Friars past Loyola 12-6 to wrap up the first day of games at the Fenwick Tournament. Evan Swenson totaled 4 scores and Meredith O'Brien made 11 saves for the Ramblers in the losing effort.
Friday's Game Recaps
Kirby Kaptur recorded 5 goals, Lizzy Kosin scored 4 times, and Carrie Nacht netted 2 goals as the Lions knocked off Fenwick 13-10 on Friday afternoon. LT put together a 6-1 run between the second and third periods to claim a lead they would never relinquish after the two teams ended the opening quarter tied at 3-3. The Friars cut the Lions' lead down to 10-8 at the end of the third quarter, but a quick goal from Kaptur erased any doubt of a Fenwick comeback. Maureen Barron scored 3 times and both Alexa Ovalle and Cara Borkovec netted 2 scores in the loss for the Friars.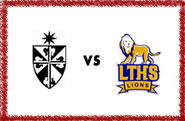 Click the logo for complete coverage
Naperville Central 12 New Trier 7
Abbey Kerth and Madison Nervig both scored 3 times and Gracie May and Lauren Gunn tacked on 2 goals apiece as the Redhawks defeated New Trier 12-7. Erika Nothnagel scored 3 goals and Alexana Astor put in 2 scores for the Trevians in the losing effort.
Homewood-Flossmoor 12 Neuqua Valley 4
Rebecca Mathews scored 8 goals to lead the Vikings past Neuqua Valley 12-4 on Friday. Claire Duncan also notched 2 scores in the win for H-F, who led 4-1 at halftime and kept the Wildcats at bay the rest of the game. Deanna Hoff led NVHS with 2 scores in the losing effort.
Mother McAuley 11 Evanston 2
Kristen Kleist scored 5 goals and Clare Bryar added 4 scores as Mother McAuley shut down Evanston to earn an 11-2 victory on Friday. The Mighty Macs built an 11-0 halftime lead before allowing two goals in the fourth quarter (Aliya Abdelhak, Yasi Nassiri).
New Trier 14 Mundelein 5
Erika Nothnagel and Isabelle Baneaux both scored 5 goals and Hannah Caywood made 12 saves to help New Trier defeat Mundelein 14-5. Allie Boothe notched 2 scores in the loss for the Mustangs.
Stevenson 7 Homewood-Flossmoor 6
Alex Kanaris scored the go-ahead goal midway through the fourth quarter and added a late rebound goal to seal Stevenson's 7-6 win over H-F on Friday night. The Patriots, who trailed 5-2 at halftime, mounted a major second half comeback, starting with a goal by Brittany Gartenberg and followed by 2 straight goals by Cami Haas. With the score tied, Kanaris scored from inside 5m to give Stevenson their first lead, one they would never relinquish. The Vikings' Annie Schloen scored with :22 seconds remaining to cut the SHS lead to one, but the Patriots were able to run out the clock to earn the win. Rebecca Mathews led H-F with 4 goals, all coming in the first half.
Saturday's Game Recaps
Loyola 7 Evanston 6
Emily Levison scored the game-winning goal midway through the final period as Loyola hung on to earn a 7-6 win over Evanston. Levison and Marta Considine each scored 3 times in the Ramblers' win.
Fenwick 11 St Ignatius 7
The defending champs used a 4-0 run in the fourth quarter to pull away from St Ignatius and score an 11-7 victory on Saturday morning. Cara Borkovec poured in 7 goals and Colleen Barron added 2 goals in the Friars' win. Maggie Maloney and Tammy Stelnicki each scored 2 times for the Wolfpack, who held a 5-4 lead at halftime.
Lyons 12 Mother McAuley 7
Kirby Kaptur recorded 5 goals and Blair Hopwood added 4 scores as LT pulled away from McAuley and advanced to the Fenwick Tournament title game with a 12-7 victory over the Mighty Macs. Clare Bryar led the Patriots with 3 scores in the loss for McAuley.
Mundelein 8 Neuqua Valley 3
Karrie Kozokar tallied 4 scores and Alyssa Garcia notched 2 goals in Mundelein's 8-3 triumph over NV on Saturday. Eileen Skowronski netted 2 scores for the Wildcats in the losing effort.
Homewood-Flossmoor 10 New Trier 9
Rebecca Mathews scored the game-tying goal on a backhhand shot with :48 remaining and Anna Tenny connected on the game-winning score on the Vikings' next possession to lift H-F past New Trier 10-9. Mathews totaled 6 scores in the win, while Tenny chipped in with 2 scores. Isabelle Baneaux registered 4 scores to lead the Trevians, who held a narrow 8-7 lead heading into the final quarter and went ahead 9-8 with 1:01 left in regulation after Baneaux connected on a shot from outside seven-meters.
Naperville Central 12 Stevenson 2
Lauren Gunn recorded 4 goals and Emily Sejna scored 3 times as the Redhawks' cruised to a 12-2 win over Stevenson. Central held an 8-0 lead at halftime before Claire Moschovas netted the first goal for the Patriots in the third quarter. Abbey Kerth and Madison Nervig each added 2 scores in the win for NC.
Championship Round Recaps
Neuqua Valley 12 Evanston 8 (11th)
Brooke Bedford scored 4 times and Devon Olson added 3 goals as the Wildcats put together a 7-2 run in the final period to come-from-behind and beat Evanston 12-8. Courtney Taylor also notched 2 goals for NV, who trailed 6-5 entering the last quarter. Yasi Nassiri recorded 4 goals Natasha Chastang put in 2 scores in the Wildkits' loss.
Mundelein 16 Loyola 12 (9th)
Allie Boothe scored 5 goals to outscore Loyola 11-3 in the second half to earn a 16-12 win. Courtney Perrault also registered 3 scores in the Mustangs' victory. Allison Sajnaj, Evan Swenson, and Marta Considine each notched 4 goals in the losing effort for the Ramblers.
St Ignatius 11 New Trier 7 (7th)
Rebecca Insalaco scored 4 times and both Stephanie Fernandez and Tammy Stelnicki each netted 3 goals in the Wolfpack's 11-7 triumph over New Trier. Isabelle Baneaux scored 3 goals and Alexana Astor put in 2 scores in the Trevians' loss.
Fenwick 9 H-F 0 (5th)
Mackenzie Bonk made 7 saves and spearheaded a Fenwick defense that shutout H-F 9-0 on Saturday night. Colleen Barron scored 3 goals and Alexa Ovalle and Cara Borkovec each tallied 2 scores in the Friars' win.
McAuley 9 Stevenson 5 (3rd)
Clare Bryar and Vicky Arciniega each scored 3 goals as Mother McAuley responded to an early 2-0 deficit to beat Stevenson 9-5 to close out the weekend. The Mighty Macs scored five straight goals in the first half and didn't allow a third goal until midway through the third quarter to emerge with the victory. Erin McCook scored 3 times in the losing effort for the Patriots.
Naperville Central 14 Lyons 11 (1st)
Abbey Kerth scored 7 goals and Julia Campbell made 12 scores and recorded a key goal to help the top-ranked Redhawks temper a strong challenge by Lyons to win the Fenwick Tournament's title game 14-11. Erin Reagan and Gracie May each scored 2 times in the Central win. Kirby Kaptur and Lizzy Kosin each tallied 3 scores for the Lions in the team's first loss of the season.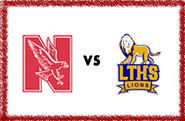 Click the logo for complete coverage
Event Standings
Naperville Central (4-0)
Lyons (3-1)
Fenwick (3-1)
Mother McAuley (2-1-1)
St Ignatius (2-1-1)
Stevenson (2-2)
H-F (2-2)
Mundelein (2-2)
Loyola (1-3)
New Trier (1-3)
Neuqua Valley (1-3)
Evanston (0-4)
Top Scorers
Abbey Kerth (NC) - 18
Rebecca Mathews (H-F) - 18
Kirby Kaptur (Lyons) - 15
Lizzy Kosin (Lyons) - 15
Isabelle Baneaux (NT) - 13
Tammy Stelnicki (SICP) - 13
Cara Borkovec (Fenwick) - 12
Clare Bryar (McAuley) - 12
Carrie Nacht (Lyons) - 11
Karrie Kozokar (Mundelein) - 11
Marta Considine (Loyola) - 11
Colleen Barron (Fenwick) - 10
Erika Nothnagel (NT) - 9
Evan Swenson (Loyola) - 9
Stephanie Fernandez (SICP) - 9
Blair Hopwood (Lyons) - 8
Lauren Gunn (NC) - 8
Alexana Astor (NT) - 7
Allie Booth (Mundelein) - 7
Madison Nervig (NC) - 7
Top Goalkeepers
Julia Campbell (NC) - 43 saves, 4 wins
Lisa Michalowski (Stevenson) - 43 saves, shutout, 2 wins
Tegan Moore (LT) - ** 3 wins **
Mackenzie Bonk (Fenwick) - ** 3 wins, shutout **
Meredith O'Brien (Loyola) - 46 saves
Hannah Caywood (NT) - 24 saves (DNP vs H-F)
** - save information not available