BOYS SECTIONALS
GIRLS SECTIONALS
-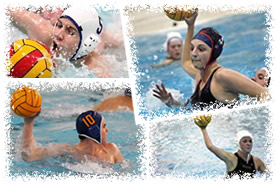 .
2011 All-Sectional Team
1st Team
Jordan Palmer (New Trier)
Konrad Von Moltke (New Trier)
Charlie Dowdle (Loyola)
Igor Gryniv (GBS)
Robbie O'Connor (Loyola)
Sam Skinner (New Trier)
James Conroy (Evanston)
.
2nd Team
Tom Meyer (GBS)
William LeCompte (Loyola)
Matt Weigel (Maine East)
Matt Bacinich (GBN)
Will Sparks (Evanston)
Will Porter (GBS)
Kameron Simmons-Gil (Evanston)
.
Honorable Mention
Elliot Kerbel (Niles West)
Mike Oulvey (Maine South)
Brendan Hulseman (Loyola)
Nate Urban (New Trier)
Gavin Taves (New Trier)
Tim Netzel (Loyola)
Ryan Miller (Niles West)
.
Coach of the Year
Dan Hengelmann (Loyola)
BOYS
GBN SECTIONAL
Schedule/Results

Tuesday, May 10
Play-In Games
(8) Niles West 15 (9) Maine West 4
Ryan Miller scored 5 goals and Max Romanelli stopped 14 shots as Niles West earned their first-ever playoff win by beating Maine West 15-4. Fillip Zivkovic led the way on the defensive end for the Wolves with 7 steals. Joe Heinz scored 2 goals in the loss for the Warriors.
Thursday, May 12
Quarterfinals
(1) New Trier 15 (8) Niles West 4
Top-seeded New Trier outscored the Niles West 10-2 in the second half to earn a 15-4 quarterfinal win over the Wolves. David Rynerson and Konrad Von Moltke each scored 3 times to lead the Trevians. Elliot Kerbel scored 2 times and Max Romanelli made 17 saves in the loss for Niles.
.
(5) Evanston 11 (4) Maine East 10
Kameron Simmons-Gil scored 5 goals as Evanston held off a late Maine East rally to advance to the next round with an 11-10 win over Maine East. Matt Wiegel scored 3 times in the loss for the Blue Demons.
.
(2) GBS 21 (7) GBN 7
Igor Gryniv scored 7 goals and Kevin Roenitz tallied 4 scores as GBS topped rivals GBN 21-7 in the quarterfinal round of the GBN Sectional. Tom Meyer made 16 saves in the win for the Titans. Brandon Schilling recorded 2 goals in the season-ending loss for the Spartans.
.
(3) Loyola 15 (6) Maine South 3
Brendan Hulseman and Charlie Dowdle each scored 3 goals, Tim Netzel scored 2 times, and goalie Robbie O'Connor blocked 10 shots and notched a goal in Loyola's 15-3 win over Maine South.
Friday, May 13
Semifinals
(1) New Trier 13 (5) Evanston 9
Jordan Palmer scored 5 times and Nate Urban added 3 goals as New Trier beat Evanston 13-9 on Friday night.
.
(3) Loyola 15 (2) GBS 12
Charlie Dowdle tallied 6 goals and Tim Netzel added 4 scores as Loyola bounced back from an early 3-0 deficit, tied the game at 12-12 at the end of the third period, and outscored the Titans 3-0 in the fourth quarter to earn a 15-12 win over GBS on Friday. Igor Gryniv scored 8 times in the losing effort for GBS.
Saturday, May 14
Finals
(3) Loyola 16 (1) New Trier 11
Charlie Dowdle totaled 6 goals as Loyola defeated New Trier 16-11 to make a triumphant return to the state tourney for the second straight year. Brendan Hulseman, Jordan Hodur, Tim Netzel, and Will LeCompte each added 2 scores in the win for the Ramblers. Jordan Palmer and Nate Urban each scored 3 times and Sam Skinner added 2 scores in the loss for the Trevians.
Game Schedule
.
May 9-May 14
-
Monday & Tuesday (May 9-10)
Play-in games
-
Wednesday (May 11)
GIRLS QUARTERFINALS
-
Thursday (May 12)
BOYS QUARTERFINALS
-
Friday (May 13)
GIRLS/BOYS SEMIFINALS
-
Saturday (May 14)
GIRLS/BOYS FINALS
LINKS