BOYS SECTIONALS
GIRLS SECTIONALS
-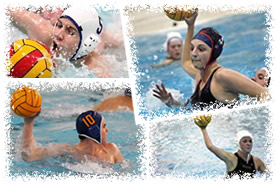 .
2011 All-Sectional Team
1st Team
Rebecca Mathews (H-F)
Hannah Ongman (H-F)
Michelle Mayer (H-F)
Danijela Jackovich (LWC)
Sophie Schloen (H-F)
Devin Green (Marian)
Zoe McCabe (LWE)
.
2nd Team
Mary Reilly (LWE)
Leah McCarthy (Andrew)
Emma Martinus (Bremen)
Jenna Tasic (LWN)
Jess Mroczek (Bremen)
Kelly Baumgartner (Andrew)
Lauren Majewski (LWW)
.
Honorable Mention
Allie Fisher (Andrew)
Hannah Schultz (Bremen)
Trish Paul (LWE)
Carlee Weiser (Marian)
Brittany Becvar (LWE)
Nora Plank (Bremen)
Beth Zhe (Bradley)
.
Coach of the Year
Pat Duignan (H-F)
.
GIRLS
LWN SECTIONAL
Schedule/Results

Monday, May 9
Play-In Games
(9) LWW 9 (8) Bradley 6
Allison Rocha scored 3 times and both Lauren Majewski and Sara Carse put in 2 scores to help lead LWW to a 9-6 win over Bradley on Monday night. Becca Beeson also made 9 saves in the Warriors' victory.
Wednesday, May 11
Quarterfinals
(1) H-F 18 (9) LWW 4
Top-seeded H-F cruised to an 18-4 win over LWW in the quarterfinal round, with ten different players recording goals to send them to the semifinals. Rebecca Mathews led the way with 8 goals, Hannah Ongman contributed 3 scores, and Michelle Mayer chipped in with 2 goals and 5 assists in the Vikings' win. Sophie Schloen also made 14 saves in the win for H-F. The Warriors actually led 2-1 in the first quarter before H-F took control of the game later in the period. LWW was led by Lauren Majewski (3 goals) and Becca Beeson (7 saves).
.
(4) Andrew 11 (5) Marian 8
Allie Fisher totaled 4 scores and Jordan Bartolini made 11 saves to help lift Andrew past Marian 11-8. The T-Bolts outscored the Spartans 5-2 in the final period to break a 6-6 deadlock to earn the victory. Abigail Wrobel and Kelly Baumgartner both added 2 scores in the win for Andrew. Carlee Weiser scored 4 times and Devin Green stopped 14 shots in the loss for the Spartans.
.
(2) Bremen 12 (7) LWN 10
Emma Martinus totaled 6 goals and Hannah Schultz added 4 scores to lead Bremen to a 12-10 win over LWN. Jenna Tasic scored 4 times and Sam Klosak tallied 2 scores in the loss for the Phoenix.
.
(3) LWE 15 (6) LWC 7
Mary Reilly scored 7 times and Emily Koss added 3 scores to lead LWE past LWC 15-7 on Wednesday night. Brittany Becvar and Zoe McCabe both added 2 scores in the win for the Griffins. Danijela Jackovich recorded 6 goals and Brittany Knowlton tacked on a goal for the Knights in the losing effort.
Friday, May 13
Semifinals
(1) H-F 11 (4) Andrew 1
Rebecca Mathews scored 4 goals, Hannah Ongman and Michelle Mayer each added 3 scores, and Sophie Schloen (8 saves) and the H-F defense allowed only one goal in an 11-1 semifinal win over Andrew. Anna Tenny also put in a goal in the win for the Vikings. Abigail Wrobel scored the lone goal for the T-Bolts, while Jordan Bartolini made 6 blocks in the losing effort.
.
(2) Bremen 15 (3) LWE 8
Emma Martinus and Nora Plank each scored 5 times as Bremen knocked off LWE 15-8 in the sectional semifinals on Friday night. Hannah Schultz and Jess Mroczek combined to score 5 goals and Vasi Vasilopoulos stopped 11 shots in the Red Jaguars' win. Zoe McCabe scored 4 goals and Brittany Becvar added 2 scores in the loss for the Griffins.
Saturday, May 14
Finals
(1) H-F 11 (2) Bremen 2
H-F earned their second straight state tournament berth by putting the clamps down on the Bremen offense and winning 11-2 at LWN on Saturday. Sophie Schloen made 12 saves, while Michelle Mayer registered 4 scores, Rebecca Mathews scored 3 times, and Anna Tenny and Hannah Ongman both put in 2 goals in the Vikings' win. Nora Plank scored both the first and last goals of the game to lead Bremen with 2 scores in the loss.
Game Schedule
.
May 9-May 14
-
Monday & Tuesday (May 9-10)
Play-in games
-
Wednesday (May 11)
GIRLS QUARTERFINALS
-
Thursday (May 12)
BOYS QUARTERFINALS
-
Friday (May 13)
GIRLS/BOYS SEMIFINALS
-
Saturday (May 14)
GIRLS/BOYS FINALS
LINKS