BOYS SECTIONALS
GIRLS SECTIONALS
-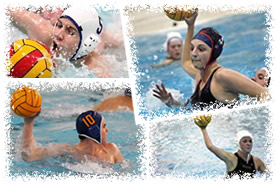 .
2011 All-Sectional Team
1st Team
Shay Banton (H-F)
Erik Niemeier (Sandburg)
Tony Rogina (Sandburg)
Matt Veldman (Sandburg)
David Hir (Lockport)
Petar Jackovich (LWC)
Tom Vander Velde (LWE)
.
2nd Team
Jake Bodnar (H-F)
Cody Corridino (Sandburg)
Caleb Peterson (H-F)
Ryan Stuart (LWE)
Kevin Kuchta (H-F)
Tim Zoellick (LWE)
Ryan Zhe (Bradley)
.
Honorable Mention
John Fitzgerald (Andrew)
Brian Cavanaugh (Lockport)
Jake Roberts (LWN)
Steve Walczak (LWE)
Trevor Kubik (LWN)
Luke Dobben (H-F)
Chris Bowman (Lockport)
.
Coach of the Year
Jim Caliendo (Sandburg)
.
BOYS
LWN SECTIONAL
Schedule/Results

Tuesday, May 10
Play-In Games
(8) LWN 15 (9) Bremen 8
Jake Roberts and Trevor Kubik both scored 4 times and Corey Lewis and Kenny Witt each registered 2 scores as LWN defeated Bremen 15-8 on Tuesday. Mike Doyle also made 10 saves in the win for the Phoenix.
.
(7) LWC 22 (10) LWW 12
Jacob Bernard scored 6 goals and both Matt Duda and Petar Jackovich recorded 4 scores in LWC's 22-12 win over LWW in a play-in game on Tuesday.
Thursday, May 12
Quarterfinals
(1) H-F 21 (8) LWN 11
Caleb Peterson recorded 7 goals, Luke Dobben totaled 4 goals and 5 assists, and Henry Weeks and Shay Banton both scored 3 times as H-F outlasted LWN 21-11. Jake Bodnar also made 21 saves in the win for the Vikings. Trevor Kubik led the Phoenix with 3 scores in the losing effort.
.
(4) LWE 7 (5) Bradley 5
Tom Vander Velde made 17 saves and limited Bradley to just five goals to help Lincoln-Way East emerge from the quarterfinal round with a 7-5 win on Thursday. Ryan Stuart also scored 4 goals to help the Griffins move on to the semifinal round. Brad Richert and Tyler Villareal each scored 2 times as the Boilers nearly pulled off the upset against the third-seeded Griffins.
.
(2) Sandburg 16 (7) LWC 6
Cody Corridino recorded 7 goals to lead Sandburg to a 16-6 win over Lincoln-Way Central. Tony Rogina also made 9 saves in the win for the Eagles.
.
(3) Lockport 10 (6) Andrew 9
David Hir scored 9 goals and connected on the game-winner with ten seconds left in regulation as Lockport earned a come-from-behind 10-9 victory over Andrew on Thursday. The Porters trailed 9-7 early in the final period, but put together a 3-0 run to stun the T-Bolts. Hir scored all three goals in the Lockport rally, which started with less than two minutes left to play. Charles Boutros, John Fitzgerald, and Shane Garren each scored 3 times in the loss.
Friday, May 13
Semifinals
(1) H-F 11 (4) LWE 4
Caleb Peterson and Shay Banton each scored 3 times and Jake Bodnar recorded 11 saves as H-F pulled away from LWE in the second half to earn an 11-4 win on Friday. Tim Zoellick recorded 2 goals and Tom VanderVelde made 13 saves in the loss for the Griffins.
.
(2) Sandburg 17 (3) Lockport 6
Anthony Bonnar, Balys Gintautas, and Cody Corridino each scored 4 times and Erik Niemeier added 3 goals as Sandburg defeated Lockport 17-6 on Friday. Tony Rogina also made 14 saves in the win for the Eagles. David Hir registered 4 goals in the losing effort for the Porters.
Saturday, May 14
Finals
(2) Sandburg 10 (1) H-F 4
Matt Veldman recorded 5 goals and Tony Rogina (12 saves) and the Sandburg defense held H-F scoreless for more than two-and-a-half quarters en route to a 10-4 sectional final win on Saturday. Balys Gintautas and Cody Corridino each added 2 scores for the Eagles. Caleb Peterson, Kevin Kuchta, Luke Dobben, and Nick Thiros each tallied one score each in the loss for the Vikings.
Game Schedule
.
May 9-May 14
-
Monday & Tuesday (May 9-10)
Play-in games
-
Wednesday (May 11)
GIRLS QUARTERFINALS
-
Thursday (May 12)
BOYS QUARTERFINALS
-
Friday (May 13)
GIRLS/BOYS SEMIFINALS
-
Saturday (May 14)
GIRLS/BOYS FINALS
LINKS