BOYS SECTIONALS
GIRLS SECTIONALS
-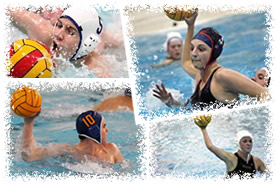 .
2011 All-Sectional Team
1st Team
Meg Dix (Prospect)
Evan Swenson (Loyola)
Brittany Wallace (Loyola)
Sarah Thompson (Evanston)
Anna Horstkotte (New Trier)
Isabelle Baneaux (New Trier)
Ellis O'Connor (Evanston)
.
2nd Team
Erika Nothnagel (New Trier)
Caitlin Sershon (Loyola)
Tori Shields (Prospect)
Margot Tuchler (GBN)
Michelle Durkin (GBS)
Abby Bailey (Evanston)
Sarah Gross (Loyola)
.
Honorable Mention
Katie Flynn (New Trier)
Anne Edwards (GBS)
Kallie Shields (Prospect)
Mary Claire Seeberg (GBN)
Rachel Nieman (Loyola)
Claire Simon (Evanston)
Kristina Alexander (Loyola)
.
Coach of the Year
Rich Schici (Loyola)
.
GIRLS
GBN SECTIONAL
Schedule/Results

Monday, May 9
Play-In Games
(8) Maine East 8 (9) Maine West 5
Maria Protic totaled 3 goals and Jessica Braslavsky added 2 scores as Maine East used a 5-1 first-half run to pull away from Maine West and earn an 8-5 win on Monday night. Zoe Levonyak led the Warriors with 2 scores in the loss.
Wednesday, May 11
Quarterfinals
(1) Loyola 17 (8) Maine East 3
Brittany Wallace and Evan Swenson combined to score the first 8 goals of the game as Loyola rolled to a 17-3 win over Maine East on Wednesday. Jessica Braslavsky, Joanna Gwizdz, and Maria Protic each scored once in the loss for the Blue Demons.
.
(4) Prospect 17 (5) GBN 7
Meg Dix scored 5 goals and Jessica Cavaiani and Tori Shields each added 3 scores as Prospect defeated GBN 17-7. Kallie Shields and Tatiana Hayes both put in 2 goals in the win for the Knights. Margot Tuchler tallied 4 scores in the loss for the Spartans.
.
(3) Evanston 15 (6) GBS 3
Ellis O'Connor tallied 9 goals and Abby Bailey added 3 scores to lead Evanston to a 15-3 win over Maine South.
.
(2) New Trier 14 (7) Maine South 5
Erika Nothnagel registered 5 scores and Anna Horstkotte and Isabelle Baneaux each scored 3 times in New Trier's 14-5 victory over GBS. Margeaux Wysockey also made 9 saves in the Trevians' win. Anna Veselovsky scored 3 goals in the loss for the Titans.
Friday, May 13
Semifinals
(1) Loyola 16 (4) Prospect 9
Brittany Wallace totaled 8 goals to lead Loyola to a 16-9 victory over Prospect. Meg Dix scored 7 times in the loss for the Knights, who went into halftime tied at 8-8 before the Ramblers put together an 8-1 run to earn the win.
.
(2) New Trier 9 (3) Evanston 8 (OT)
Jocelyn Kupets scored 3 goals and Erika Nothnagel and Isabelle Baneaux each tallied 2 scores as New Trier outlasted Evanston 9-8 in overtime to advance to the sectional final game of the GBS Sectional. The Trevians actually trailed for most of the game, with Evanston leading 4-3 at halftime and 5-4 heading into the last quarter. New Trier put together a 3-0 run to take a 7-5 lead late in the game, but the Wildkits scored two straight goals at the end of regulation, as Ellis O'Connor's last-second goal tied the score at 7-7.
New Trier outscored Evanston 2-1 in overtime to claim the 9-8 win. Kupets scored both goals in extra time to lead the Trevians to the win. O'Connor scored 4 goals and Abby Bailey and Yasi Nassiri each scored 2 times in the loss for the Wildkits.
Saturday, May 14
Finals
(1) Loyola 11 (2) New Trier 7
The Ramblers built up an 8-2 lead and held off a late charge by New Trier to earn an 11-7 win to return to the state tournament. Evan Swenson scored 4 goals and Brittany Wallace, Caitlin Sershon, and Sarah Gross each added 2 scores in the victory for Loyola. Erika Nothnagel tallied 3 scores in the loss for the Trevians.
Game Schedule
.
May 9-May 14
-
Monday & Tuesday (May 9-10)
Play-in games
-
Wednesday (May 11)
GIRLS QUARTERFINALS
-
Thursday (May 12)
BOYS QUARTERFINALS
-
Friday (May 13)
GIRLS/BOYS SEMIFINALS
-
Saturday (May 14)
GIRLS/BOYS FINALS
LINKS